Eric Simard, Doctorate in biology,
researcher in the field of aging.
PRESENTATION OF ERIC SIMARD
Eric Simard is making important discoveries to slow the processes of aging. An educated scientist, he has always been particularly interested in the environment and human health. Thus, from his baccalaureate, he restarted the aquatic ecology laboratories of the Université du Québec à Chicoutimi, by mobilizing professors and developing two new research programs. Already working on a third research program, this time in human health, still during his graduate studies, he decided to pursue this subject at the doctorate level, at the INRS-Institut Armand-Frappier de Laval. His graduate studies were supported by obtaining 7 excellence scholarships and 5 awards/honors.
Eric Simard comes from a small village in Lac-Saint-Jean, from a very modest family. His father having been seriously ill while he was still in high school, he promised to make a difference in human health, especially through preventative methods. This is how he decided, in 2013, to start his new research on human aging.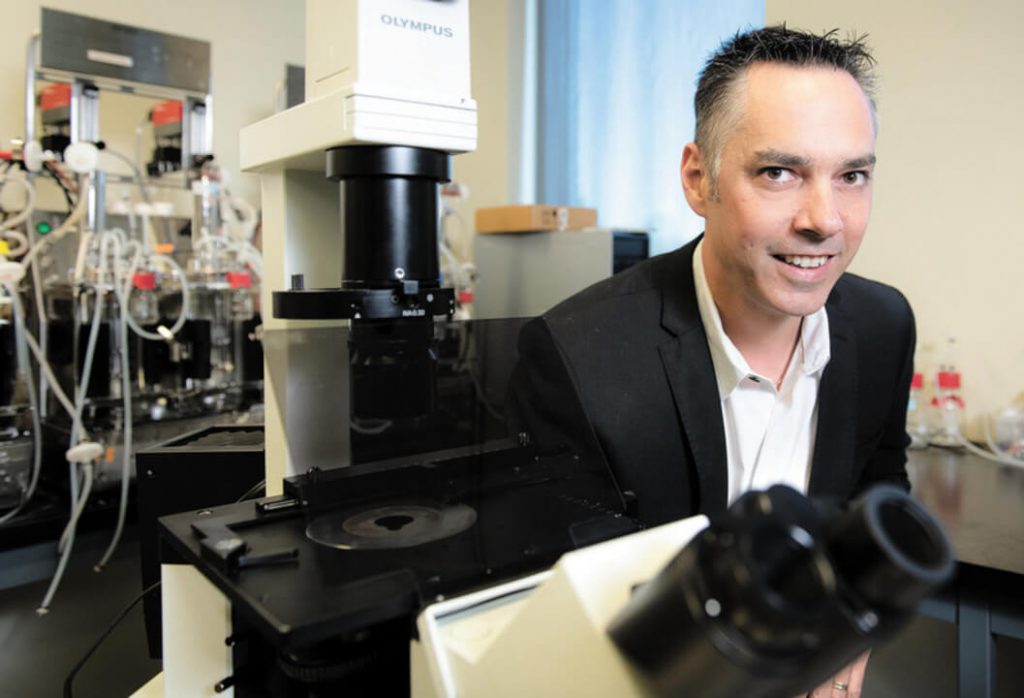 Aware that current knowledge already made it possible to formulate a large number of recommendations, in order to age healthily, Eric Simard set out to write a book. By collaborating with three other health professionals, he reviewed more than 400 scientific references in order to create the
best reference tool. He developed, one of the largest networks of health professionals (on LinkedIn), intended for preventative methods and healthy lifestyles. He is a valued developer and sought- after communicator.
The first book being a bestseller in Quebec, Eric Simard decided to write a second in collaboration with Dr. Jacques Lambert, MD and two pharmacists: Live Young, TWO Times Longer. The two co-authors completed a third book which was then published in 2019: Small Guide to Longevity. Passionate about science and innovation, he is the father of three children and now wants to communicate his passion to help people age well; live healthier, longer.
Founding President of Technologie Biolactis – 1999 – 2001
Vice President of Technological Development of Technologie Biolactis – 2001 – 2005
Vice President of Exploitation of Technologie Biolactis – 2005 – 2007
Vice President of Operations of Technologie Biolactis – 2007 – 2010
Doctorate in Biology from INRS, Institut Armand-Frappier – 2008
President of l'Association pour les ingrédients santé en alimentation – 2004 – 2012
Administraot of Fondation Initia – 2013 – 2016
Chair of the Natural Sciences and Engineering Research Council of Canada
(NSERC – Québec) – 2008 -2019
Vice-President of Science and Development of Bio-K Plus International – 2010 – 2011
Vice President of Science and Development of Neptune Technologies & Bioressources Inc.
– 2011 – 2013
Presenter at numerous scientific congresses and trainer alongside nutritionists,
pharmacists and doctors – since 2002
President of Idunn Technologies (company specialized in the field of aging and which markets
the Vitoli® product line) – since 2013
Appointed by the Ministers Council on the Commission de l'éthique en science et technologies
– 2017
President of the Professional Association for Integrative Health – since 2020
To this end, and following important discoveries made with Concordia University, he also created the Vitoli
®
product line. With the collaboration of two specialized pharmacists, the Vitoli
®
product line has been developed to reintegrate higher quality products into the practice of pharmacists and doctors. These are much higher standards than those required by Canadian regulations. Formulations at the cutting edge of scientific knowledge, specialized for healthy aging, higher quality ingredients and sufficient quantities, all this to provide greater efficacy and product safety (
www.vitoli.ca
).