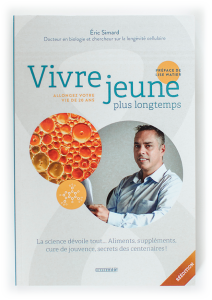 Live young, longer (Currently only available in French)
In this book, Eric Simard, doctor in biology and researcher in the field of aging, with the participation of several experienced scientific collaborators, we demystify aging and share an integrated approach to stay healthy for a longer period time.
Did you know?
That there are species that do not age.
That the aging process can be slowed down.
That moderate physical activity increases our resistance to oxidation.
That a woman with a large circle of friends is 4 times more likely to survive breast cancer.
Those certain plants and certain foods have molecules that can improve the natural maintenance and repair processes.

« This book is a vast reservoir of credible scientific data, clearly presented and analyzed, which becomes easy to consult at any time, to better plan your daily life regime and thus harmoniously and beneficially extend your years of life. Thank you Eric for this effective focus and judicious recommendations that are easy to carry out and accessible to everyone. It's up to the excellence that characterizes you. »
–Dr Serge Carrière, Retired Specialized Physician of the Order of Canada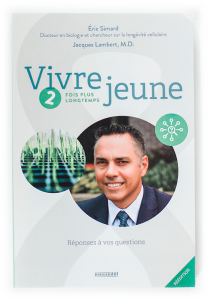 Live Young, Two Times Longer (Currently only available in French)
In this book, 25 essential questions are addressed regarding diseases associated with aging, science/biology and prevention. This book is aimed as much at scientists, health professionals or anyone interested in disease prevention, as well as best practices for retaining the full potential of our abilities as we age.
This book combines the knowledge and expertise of Eric Simard, doctor of biology and researcher in the field of aging, of Dr Jacques Lambert, doctor, of Jean-Yves Dionne, pharmacist and André Perreault, pharmacist.
We discuss :
The concept of "deprescribing" … are we taking too many medications?
The concept of happiness and its link with health and aging.
The ten tips for aging well.
Capabilities related to: memory, osteoporosis, prostate, diet, sleep, stress.
Anecdotes, including a 105-year-old man who broke records bicycling and an 85-year-old lady who won more than 500 medals after starting running at the age of 78.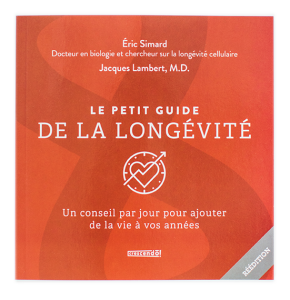 Small Guide to Longevity (Currently only available in French)
This short guide is based on the first two collections: Live Young, Longer and Live Young, Two Times Longer. This book, inspired and a logical follow-up to the first two, is for those who want to get straight to the point: read practical tips that will help them develop healthy habits and a means to live long and healthy lives. These recommendations are based on solid scientific data, including the most recent. You will find statements, statistics, quotes, or recommendations, condensed and unequivocal, on the ways of aging well in health, by avoiding as much as possible the pitfalls that can arise throughout the road of life. Some of them will speak to you more than others. And at the end of the day you will find a multitude of tips to maintain health, to get through life as best as possible, but above all to live it fully and as long as possible.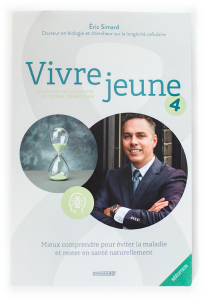 LIVE YOUNG 4: DON'T BE A SLAVE TO YOUR GENETICS (Currently only available in French)
Live Young: a book in continuity with the first three which are unique reference works containing recommendations on all the important aspects to consider for "living young longer". This time, the main diseases associated with aging are discussed with explanations on the causes, but also the risk and prevention factors. Eight health professionals join forces to cover all important aspects: Alzheimer's, joint problems, sleep problems, overuse of drugs, longevity diet, etc. Three pharmacists, a nutritionist, a doctor of kinesiology, a psychologist and a dentist have teamed up with Éric Simard, a Quebec researcher in healthy aging, to offer a new concept: facilitating advice. Here, it's about simplifying disease risk reduction recommendations to produce statements that are easy to understand and apply; understanding + motivation + application = facilitating advice. It is the way to simplify and improve lifestyles to therefore facilitate the development of a culture of preventative measures and allow people to age healthily.