Live young in music and in health
"Live young in music and in health" with Richard Abel and Eric Simard, doctor in biology and researcher in the field of aging, will be a series of programs, different for each season, which will review the most important facets for healthy aging. Each program will also allow you to discover musical performances by Richard Abel and video sequences taken from his long international career. Thus, the programs will be co-hosted by Mr. Abel who will discuss health topics with Eric Simard and who will also embellish the discussions with a touch of humor from well-chosen jokes. From a health point of view, the recipe will be the same for each addressedfacet: the biology of the problem, what happens or what changes as we age, and what we can do to prevent or reduce the impact of these health problems in our daily lives. It's a date!
To learn more about co-host Richard Abel visit his website : www.richardabel.ca
TELEMAG BROADCASTING SCHEDULE
The programs will first be broadcast on the Télémag television channel from October 15, 2019, one program per week.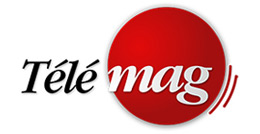 PREVENTION OF DEMENTIA AND ALZHEIMER'S DISEASE (French)
SLEEPING PROBLEMS IN AGING (French)
INFLAMMATION AND JOINTS PROBLEMS (FRENCH)​